Kindle, Vyrso Deals Include a Counseling Book on Depression, Understanding God's Call on Your life, Spiritual Warfare, Homosexuality and the Church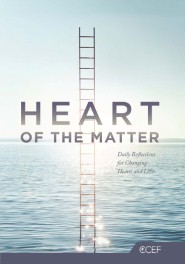 Heart of the Matter: Daily Reflections for Changing Hearts and Lives
Description on Vyrso:
Start a Year of Deep-Down Change Today!
Change that goes deeper than the surface of our lives happens as we daily remember the truths of the gospel. Every day we need to be reminded that Jesus, God's own Son, came to this world to save us from sin, sorrow, and death. We need to remember every day how Jesus' life, death, resurrection, ascension, and promised return change the way we view ourselves and others. This devotional will be a daily reminder of these life-changing truths.
The 366 selections, anchored in Scripture and saturated with the gospel, will help the reader to:
• Learn how God in his Word addresses a host of life situations
• Focus on how the gospel intersects with life
• Look beyond circumstances to God's purposes
• See how God values relationship and to learn to value it too by persisting, by speaking truth in love, and by not shying away from conflict
• Grow in wisdom when confronted by life's changes.
• Learn that God works change that is effective and visible.
Topics covered in the devotional include: love, hope, grace, redempti
on, faith, contentment, conflict, relationships, prayer, fear, patience, humility, and anger.
$1.99 on Kindle
It's Your Call
Description and bio on Vyrso: Discover God's calling for your life. . . Few spiritual concepts have fascinated and confused people more than understanding God's calling for their life. Is it primarily about a job or a role? It is precise or general? Is a calling only reserved for those who work in professional ministry? The truth is actually amazingly profound: What we are supposed to do is what we most want to do. This is a guide for discovering God's design and destiny for your life. Drawing from over twenty years of experience in ministry, Gary Barkalow shares how you can:
Live alert and oriented to the voice and choreography of God.
Discover and interpret the voice of your own story.
Discern the strategic assault against your calling.
Recognize God's intentional training in your life's journey.
Most of all, you'll be inspired to let the glory of your life touch the world around you.
Gary Barkalow is the founder and director of The Noble Heart, a ministry with the express purpose of helping men and women find their life in God and their calling in this world. He has served in leadership positions at Ransomed Heart Ministries, Focus on the Family, and Campus Crusade for Christ. Through The Noble Heart, Gary speaks at conferences across the country and around the world. Gary and his wife, Leigh, reside in Colorado Springs with their four children.
99 cents on Kindle
Depression: Looking Up from the Stubborn Darkness
Ed Welch
99 cents on Kindle

People to Be Loved: Why Homosexuality Is Not Just an Issue Kindle Edition
by Preston Sprinkle (Author)
Kindle $9.99